About Us
Standard Poodles Of Forest Lakes
Our poodles are first, and foremost, our companions. They live in our homes and sleep in our beds. They vacation and travel with us. To ensure we can enjoy full and active lives with them, they receive regular veterinary care and health testing well beyond the minimum recommendations by Poodle Club of America.
TWO AND FOUR-LEGGED FAMILY
The Human Component
​We have had dogs our whole lives and Standard Poodles since 2003. As a 4H Dog Club member and a 4H Leader, Amanda and I loved bringing our dogs to 4H to learn, practice and demonstrate showmanship, obedience and agility. Our dogs and horses were a blessing we shared with my niece and with my lil sis (Big Brothers/Big Sisters of America) so they could participate in 4H as well. Our poodles have been fabulous trail riding, hiking, biking, traveling and camping companions. Our family fell in love with the breed so deeply that we have added to our family every few years; we currently have 10 standard poodle family members between three households. Our dogs have 20 acres to roam here at the homestead and/or at Amanda's but are often found enjoying the lake at Grandma's during warm summer days.
Why Poodles?
Over our lifetimes we have had other mixed and pure-bred dogs, but gravitated to the Standard Poodle for a number of reasons. Standard Poodles are extremely intelligent, sensitive, patient, loving and loyal. Several times over the last two decades a poodle has stood between us and a predator or other potential threat (typically coyotes, sometimes people). I know each of these dogs would have given his life to protect us. Admittedly, as soon as the threat disappeared the poodle came running to us for reassurance but we've loved them all the more for it.
Poodles are very clean, do not shed, and are great for families with children. They have hair, rather than fur, and as a result are considered 'hypoallergenic'. Poodles require regular grooming to be healthy and happy. Many owners choose to learn basic poodle grooming skills; we provide a wealth of information on poodle grooming and we can recommend an online educational source upon request.
Our journey began almost 20 years ago with our first purebred standard poodle. Over a decade later, in 2014 we embarked on the next chapter by starting our search for foundation dogs that embodied the standard poodle breed. In the meantime we participated heavily in standard poodle rescue and enjoyed whelping foster litters. I studied and learned from AKC College, PCA, VIP, poodle breeders and my mentor, and we produced our first SPFL "show" litter in 2018.
Preservation of the Breed we Love
We proudly declare that SPFL, its mentors and mentees are preservationist breeders. We believe that breeding dogs is a privilege, not a right. As stewards of the standard poodle, we are guided by the principal desire to continuously improve and preserve the breed. Our poodles have been bred for structure, good health AND temperament to ensure that the lives of all of our dogs are filled with family, love, health and the chance to enjoy what the standard poodle was bred for – whether watching over family, retrieving, hunting or exploring the world in the company of their handlers.
We encourage you to conduct thorough research and ask questions to ensure the right fit for your family and needs. 
Competition
​

​Having thoroughly enjoyed the years as a 4H leader, when the children had all graduated college and moved out on their own, Michele began to participate in conformation, agility, obedience, rally, trick, canine good citizenship, therapy work, precision coursing, dock diving and scent work. Amanda participates when her busy surgical vet assistant schedule allows. Michele, Amanda and the SPFL dogs have earned an amazing 166 titles in 4 years – including Romeo's 3 Best in Show and 6 Reserve Best in Show awards, Katie's 2 Best in Show and 2 Reserve Best in Show awards, Dior's Best in Show award and 9 Best Puppy in Show awards but not including the 6 titles Rhett had earned before joining SPFL!!! Over the last 20 years, we have enjoyed earning almost 200 titles and awards with our beloved poodles! Read more in this Blog Post. 

Competing in conformation is how breeders prove their dogs conform to the breed standard. The breed standard clearly describes the expected structure and temperament for the breed. Judges evaluate the dogs for soundness, movement/gait, type, and temperament against the breed standard – to ensure they are physically and mentally built to perform the tasks or jobs intended for the breed.

Dogs cannot be bred for performance without being bred for conformation; the bio-mechanical relationship between structure and function is absolute. Or simply stated, if the dog is not bred to the breed standard it will not be able to properly perform the physical operations required of performance sports or as working dogs without injury (short or long term).
Proven Versatility
Our dogs are proven in a variety of activities to demonstrate that poodles really can do anything.  
Agility
Barn Hunt
Dock Diving
Hunting/Field/Retrieving
Obedience
Rally
Coursing – straightaways and patterns
Service Work
Scent Work
Therapy Work
Weight Pull
These activities really strengthen the bond with my dogs and I enjoy discovering what makes them happy or excited. Below is me congratulating Daphne on earning her Grand Championship in a nice class of 8 beautiful champions. She loves her bum scritches as a reward! Photo credit goes to David Balkovitch – I cannot thank him enough for capturing this moment. 
Great Start
What sets SPFL apart? Our breeding philosophy transcends mere looks, pedigrees, or show titles. It delves deep into the heart of breed health for future generations. Our breeding program places a strong emphasis on promoting optimal health. We achieve this through rigorous DNA and health testing, comprehensive independent evaluations of structure and temperament, and an unwavering commitment to continuous education. This approach not only benefits our program but also our valued clients. We take pride in offering a 3-year health guarantee, backed by our extensive testing efforts!
Our poodle parents are veterinarian approved for breeding based on genetic testing, health certifications, physical condition and overall health. AKC DNA profiles (where applicable), 5-generation pedigrees, and health records are available for approved buyers. Please visit our Health Info page for more details.

Your poodle's health and well-being are our top priorities.
Before we consider breeding, a number of health clearances are obtained – well beyond the minimum requirements published by Poodle Club of America. Potential parents earn their Canine Health Information Center (CHIC) certification by passing the Poodle Club of America recommended OFA health certifications for:
HIPS

EYES (including annual recertification prior to breeding)

CARDIAC Elective – Basic and/or Advanced (including annual recertification as needed)
We also choose to do a second elective:
THYROID Elective – Baseline before 2 years of age, then as needed or recommended (varies by age)
In addition to CHIC certification, our potential moms and dads are DNA tested for over 200 genetic diseases including poodle specific diseases such as:
Neonatal Encephalopathy with Seizures (NEwS)

Degenerative Myelopathy (DM)

Progressive Retinal Atrophy/Progressive Rod-Cone Degeneration (PRA-PRCD, PRCD)

Progressive Retinal Atrophy Rod-Cone Dysplasia 4 (PRA-rcd4)

Day Blindness / Retinal Degeneration (DB/RD) 

VonWillebrand Disease (vWD)

Chondrodystrophy and Intervertebral Disc Disease (CDDY/IVDD)

Osteochondrodysplasia (OCD)

GM2-Gangliosidosis
And finally, we have been utilizing Canine Genetic Diversity testing through BetterBred/UC Davis since 2018 to match sires and dams. This new genetic testing assists breeders in matching dogs to improve the overall health and longevity of the breed. 
We work to better our beloved standard poodle by breeding for stable temperament and by placing an emphasis on structure and health to produce the classic standard poodle: a versatile, multi-purpose family dog with a special spark of vitality!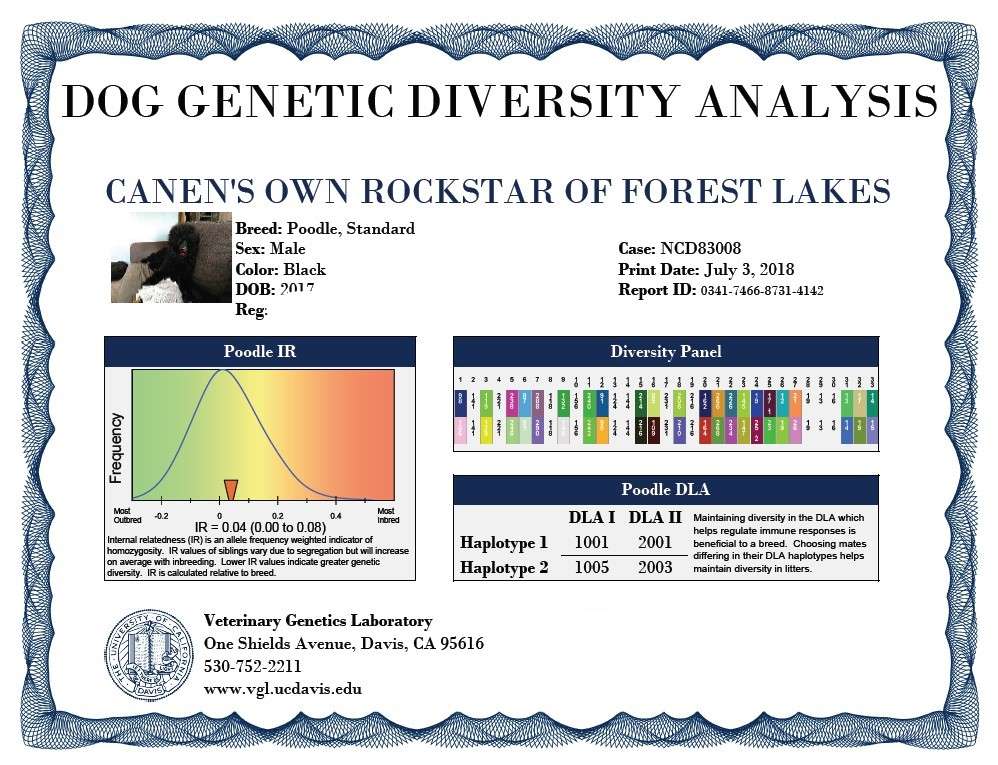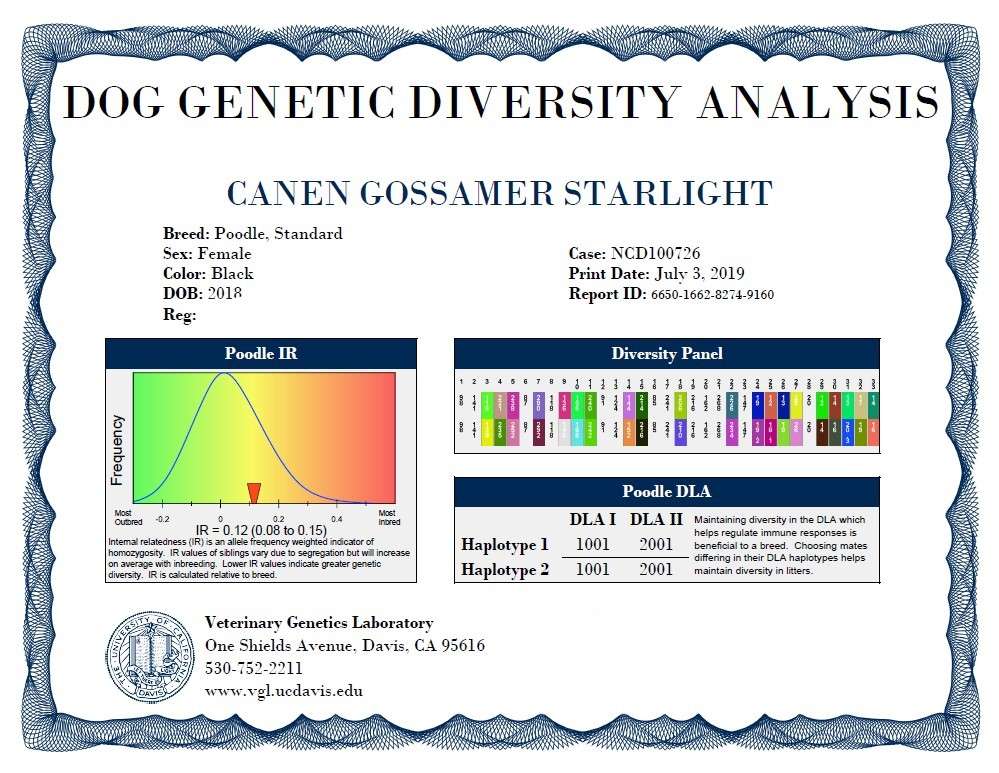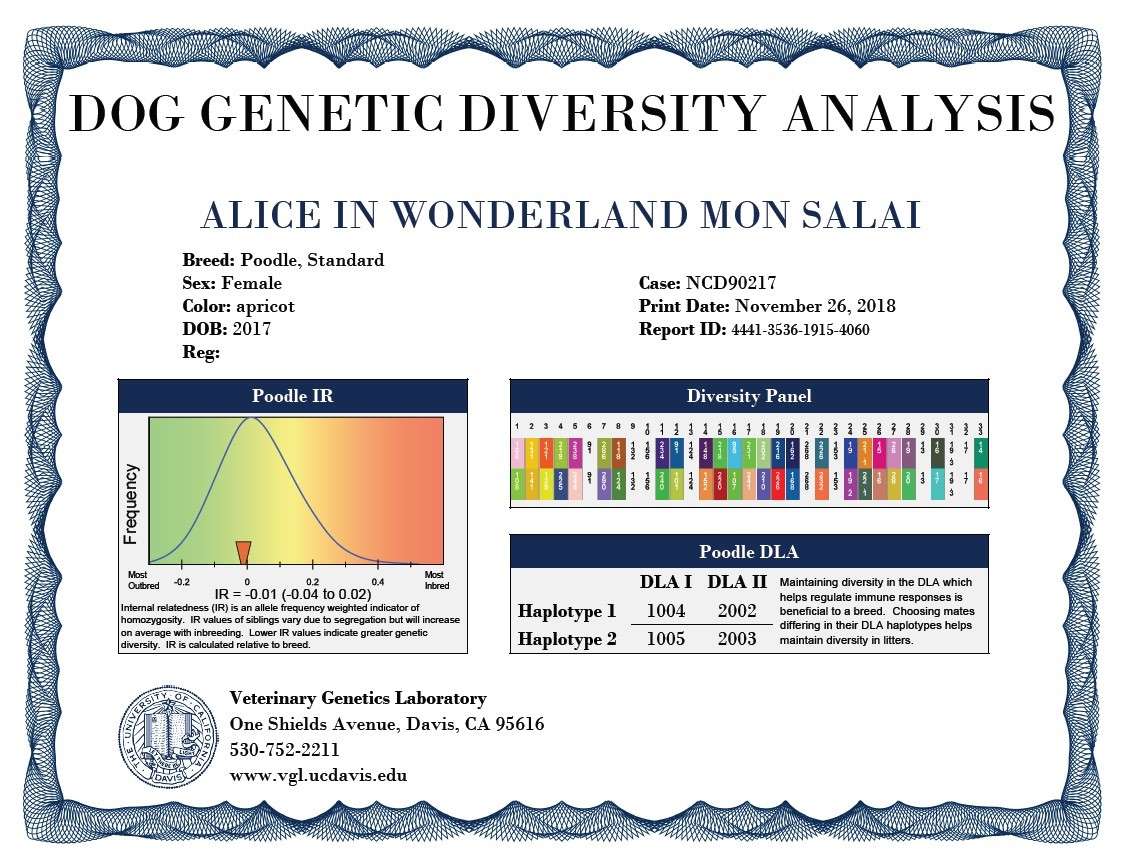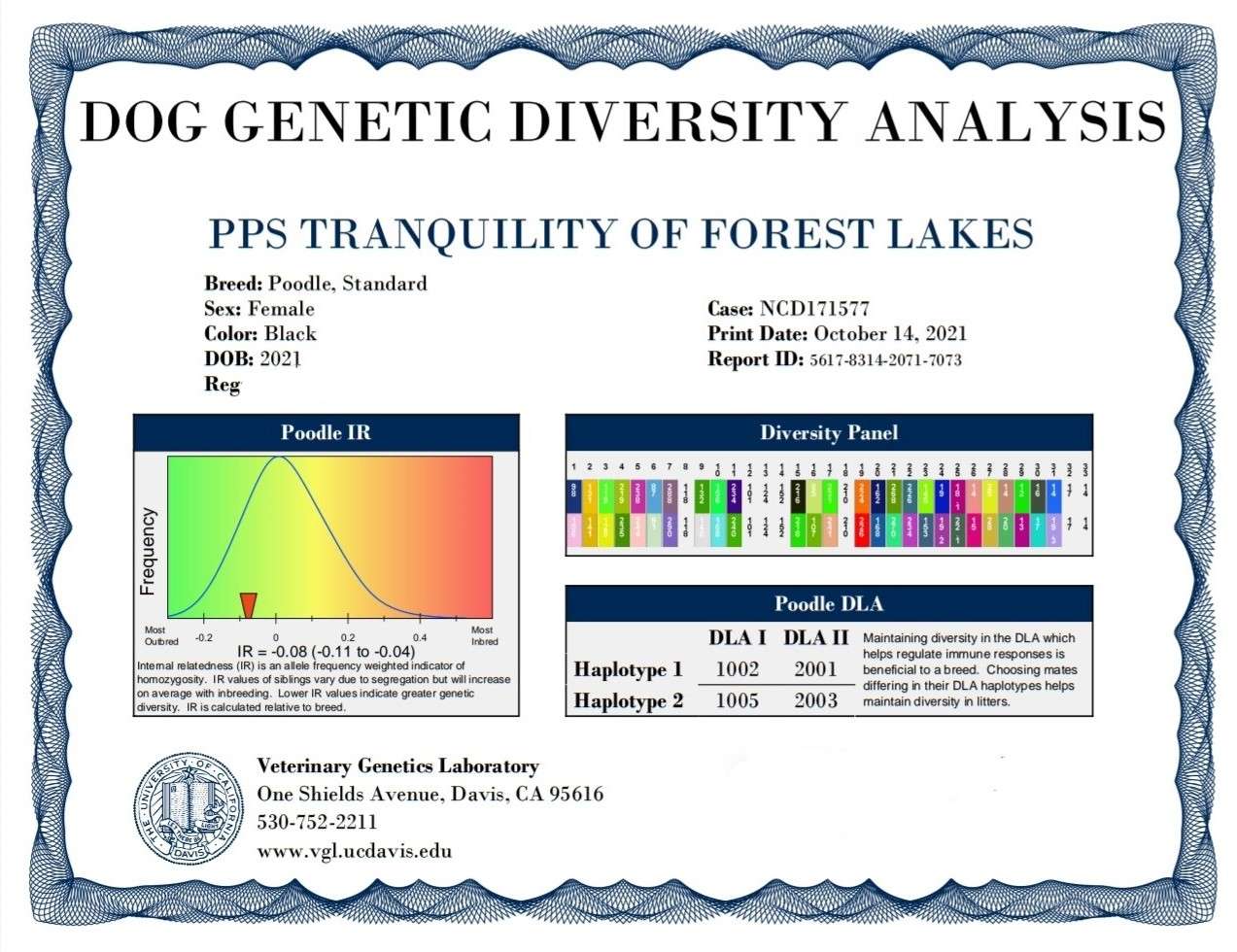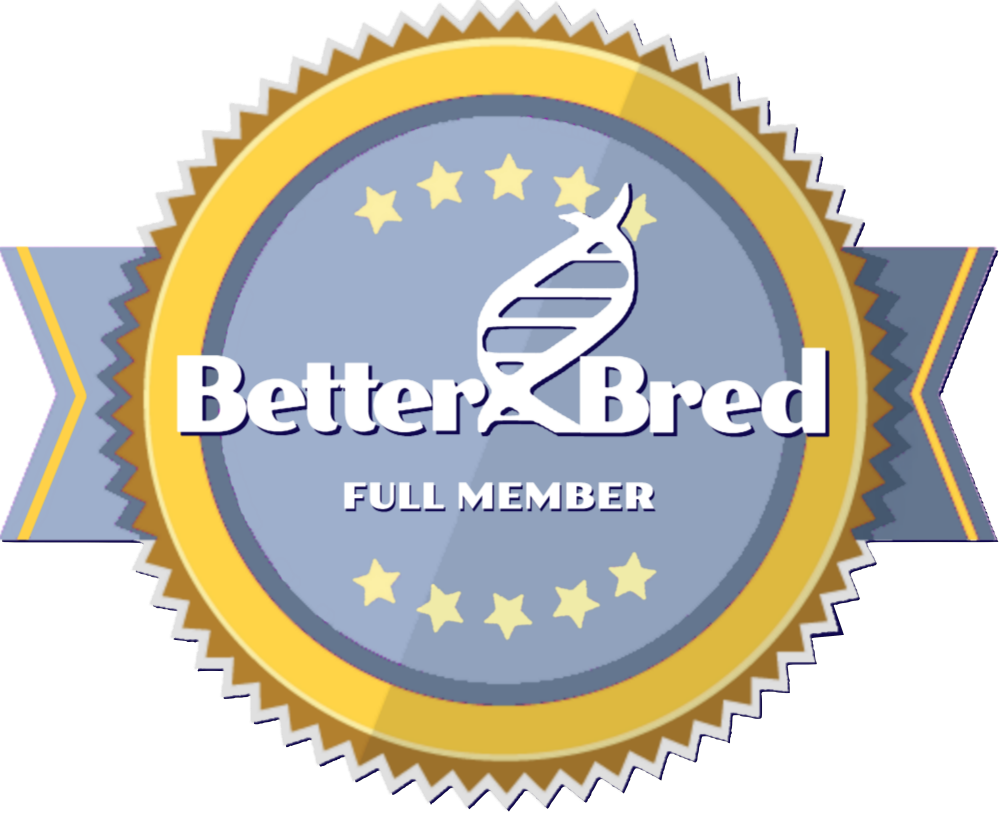 Raised in Our Home
The puppies, like our dogs, are raised in our home as family members. We have a bedroom set up specifically for the mother's comfort when whelping her litter. After a few weeks, we move them to the great room where they can absorb the sights and sounds of the household and the comings and goings of people and adult dogs. Each puppy receives daily one-on-one time for basic training and individual human socialization in addition to our group activities. All pups will have baths and trims at least 4 times before they transition to their new homes.
​

We proudly embrace both Puppy Culture and Avidog protocols in our breeding program. These innovative methodologies form the cornerstone of our commitment to raising exceptional standard poodles. Puppy Culture provides a structured and enriching environment that fosters early socialization, learning, and emotional resilience in our puppies. Avidog, on the other hand, offers comprehensive guidance on everything from pre-conception to puppy rearing, ensuring that every stage of their development is optimized for lifelong health and success. Together, these protocols enable us to produce well-adjusted, confident, and healthy poodles, setting them on a path to become loving companions, successful show dogs, and valued service and therapy dogs. Our dedication to these methods reflects our unwavering commitment to the well-being of both our dogs and their future families. 🐾❤️
All puppies will be wormed several times, vaccinated and examined by our veterinarian, and will be released to their new homes at approximately 10 weeks of age. We strongly believe in giving our puppies the maximum opportunity to socialize by bringing in 'safe' visitors.
Contracted buyers are invited into our home and puppy rearing activities through our PuppyCams, and can even watch the birth (if desired). We have even answered questions posed via Messenger in the middle of our activities. Contracted buyers may visit their puppy after immunizations, as long as no health risks are present. Temperament testing conducted by a professional in week 7 will aid us in matching puppies with new families.
Current Parents
Parents of the Future – Keeping our 'feet on the ground and eyes on the horizon'
We are dedicated to the love and care of our retired and current parents and their litters, and we will always keep their well-being as our first priority – while seeking complimentary bloodlines as well as advancements in testing and education to continuously improve our lines. 
Apricots

: We are looking toward the future with our young apricot, Phoenix, who started showing in Novice Puppy in July 2023. I just one month she racked up 7 Best or Reserve Best Puppy in Show awards with very nice competition. She is the keeper of our Feia x Blaze pairing that produced 5 stunning puppies in March 2023. And of course, she is the most bold and sassy of the litter!
Feia was born here at Forest Lakes; our second generation 'pick of the litter' show prospect. She passed PennHip and all DNA health testing. She successfully completed Puppy Obedience I and II and earned her Canine Good Citizen title. At Premier Nationals in June 2021, Feia earned her championship title: CH Wish Upon a Firestar Reverie of Forest Lakes OA AXJ NF CGC. Feia had just one beautiful litter and then retired from breeding. She has endless drive and is continuing her training and competing with her co-owner, and my first mentor, in Agility. ​
Blaze came to us from Romeo's father's breeder, who is one of our standard poodle mentors and a highly successful breeder of show and pet poodles. This little man is trying very hard to give Piper some competition for the happiest dog title! Blaze successfully completed Puppy Obedience I and II and earned his Canine Good Citizen, Novice Trick, and Outstanding Socialized Pet Obedience titles. He is learning Rally Obedience, Agility and Precision Coursing – and he is a quick study! Blaze also debuted in December 2020 in Novice Puppy (non-licensed) and earned his champion title August 2021. In May 2022, 
GRCH En Tour's Trail Blazer of Forest Lakes CGC TKN SPOT-ON 
swept the poodle classes earning multiple Best of Breed awards to finish his Grand Championship! 
White/Black/Blue

: We specifically sought white females to complement our black males, Romeo and Deacon. We were blessed to find the breeders and bloodlines that met our requirements. We are very excited for the future of these puppies not only in UKC, but also in AKC. 
We are blessed with our very own Porsche GRCH Canen Gossamer Starlight of Forest Lakes BCAT DASH CGCA TKI ACTJ1 VCX who is a blue beauty and a phenomenal mother (and litter mate to Romeo). She produced two absolutely wonderful boys in her first planned litter – with loving and biddable temperaments (titled at 5 months old!) and gorgeous structure. She produced 4 girls and 3 boys with her second planned litter. 
In July 2021 we added Katerina who made her debut in novice puppy a few weeks later. Kate is a natural in the ring; in August 2021 she earned a Reserve Best in Show Puppy (RBISP) over 11 puppies at only her second show! Entering only three weekends of shows as a 6-12 month puppy, she continued to show like a born champ winning multiple Best of Breed and Group placements to earn her championship at only 8 months old! Katie AKC-CH U-MBIS MRBIS RGrCH RACEN Katmary's Rainbow (of Forest Lakes) CGC TKN BCAT TD
earned her Grand Championship, while being shown by Juniors, in January 2022 at 9 months old, and went on to earn her first leg toward her Ruby Gemstone Title. She was shown to her AKC Championship by the wonderful handler Ann Rairigh!
In September 2021 we added Daphne GRCH Beatrice's Diamond (of Forest Lakes) who made her own debut just a month or so later in novice puppy. Daphne is a spitfire; she thinks she should rule the world and will give you sass if you disagree! She looks absolutely stunning in the ring and we are expecting big things from this little lady!
In July 2022, we added Callista GRCH Asha Over the Moon (at Forest Lakes) RACEN BCAT who hit the ground running with her show career, earning her championship in the first 3 days of showing and at only 7 months old! Callista was recognized June 2023 at only 14 months with an Award of Merit at the UKC Premier Nationals UPA Poodle Specialty. She finished her Grand Championship in July 2023.
In June 2023 we added Martin AKC CH FBP Son of a Poo! who made a huge debut in the 9-12 month puppy class his first weekend out. Martin is a 'never-met-a-stranger' boy who brings an attention-getting presence to the ring! Martin earned his AKC championship in just a few weekends and is currently working toward his Grand Championship. 
Multi-Colored

: December 2021 we brought Rhett home, GRCH RACEN Sapphire's Hard to Get
BCAT DASH

CGCA TKN SPOT-ON ATD VCX

. Rhett was already a Grand Champion and had earned several other titles with his breeder and co-owner, Wendy. He is a sweet, amiable boy with a great work ethic. Rhett earned his BCAT and started training in nosework in 2022 and he became my third certified therapy dog in spring 2023. He is a brindle pointed phantom, with highly diverse genes, who was paired with Piper in 2023 for a gorgeous litter, and later will potentially be matched with our black brindle girl,

Dior

–

BIS

GR

CH RACEN Sophia Tigrato Dior of Forest Lakes DASH CGCA TKN BCAT

, from our October 2021 Piper litter.
What Drives Us
Our Vision
Forest Lakes is dedicated to the standard poodle. Our vision is to consistently produce the next generation of structurally correct, healthy and even-tempered standard poodles.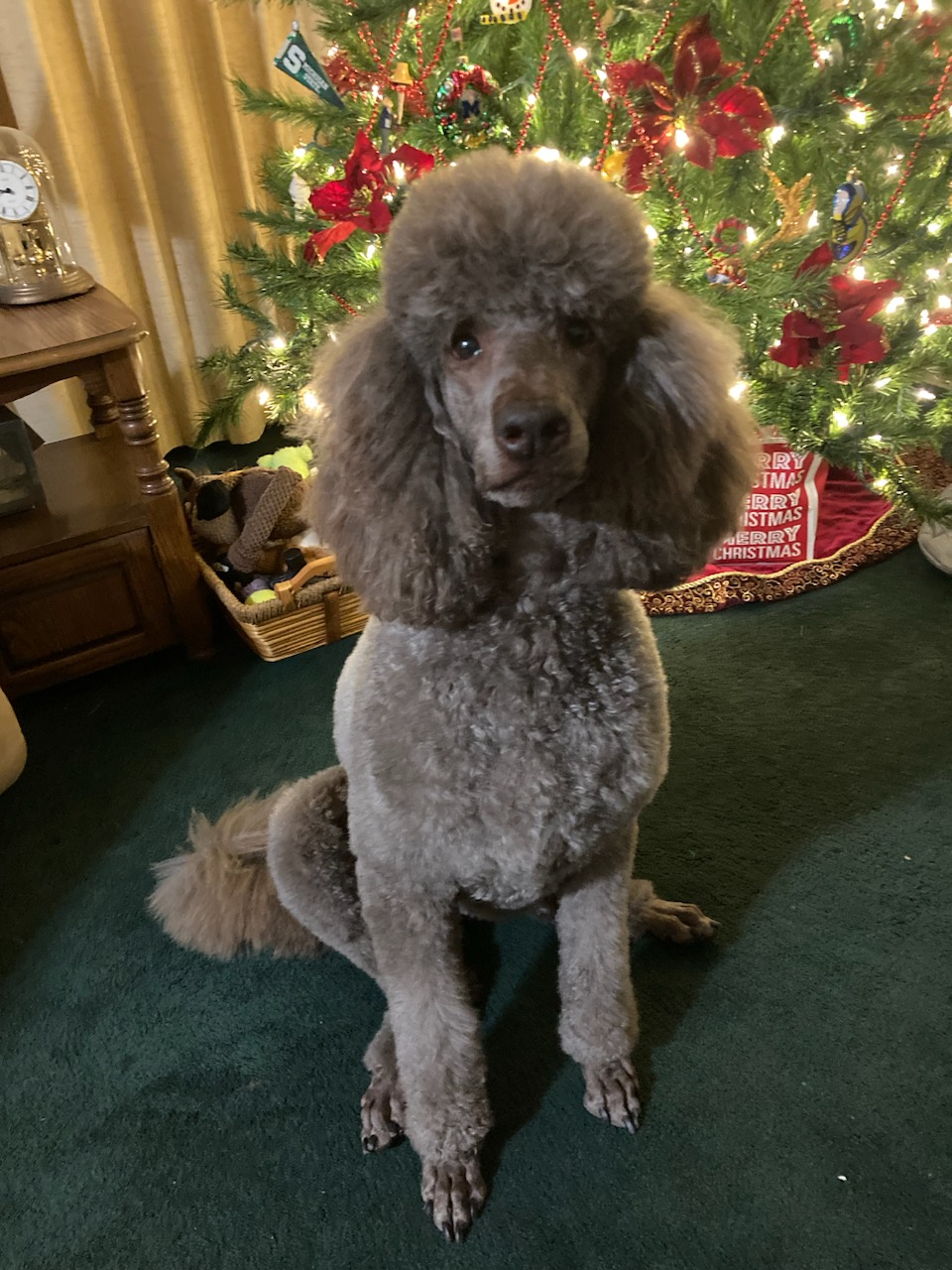 Our Foundation Dam
Our foundation dam 'Gigi' is an old-fashioned type of Standard Poodle descended from the Canen line of standards who were bred in Europe as working dogs. The well-known breeder cultivated her lines for almost 80 years! Gigi is a stunning representation of the Canen bloodline, inside and out.
Gigi stands 24 inches at the shoulders and weighs 57 lbs. Gigi had three beautiful litters, including the litter that produced our Sapphire Grand Champion Romeo and Grand Champion Porsche, and then she retired to a life of leisure where she could be found happily 'grandmothering' our other litters of puppies for another few years. Today, she is bringing love, companionship and joy to a couple who lost their two standard poodles a few months apart.
SPFL Gen I, II and III
In our journey at Forest Lakes, our initial generation of puppies has now matured and is contributing to the creation of the second and third generations of SPFL puppies. We diligently oversee their development and well-being throughout their lives, and we extend our heartfelt gratitude to our SPFL families who remain in contact and provide valuable updates. This ongoing evaluation is a crucial aspect of ensuring the continued health of our breeding lines because, despite thorough testing, it's impossible to predict every potential health issue.

.
Our second generation of Forest Lakes puppies is breaking their own records and making their mark. These pups are cherished family members, excelling not only in conformation but also in obedience, rally, agility, dock diving, and nosework. Several of them have found their calling as therapy or service dogs. It's truly astonishing to witness the versatility of the breed and the potential within these bloodlines

!
As for our third generation of Forest Lakes puppies, they are still in their youth, growing and developing as we eagerly anticipate their future achievements.
As the owner of this website, I retain all rights to its content.
This content may not be redistributed by any individual, business entity or social media page without my express, written permission. 
I've always been enamored by the wide array of colors that solid poodles come in. However, I noticed a lack of genetic diversity within the apricot range, which spans from cream to red. Interestingly, the darker the color, the more this issue seemed to manifest. Since intervariety breedings were not part of my breeding program plans, I decided to take action.
This led me to import Penelope from an exceptional breeder in Poland, whose lineage included a father from the Netherlands. Penelope's ancestry boasted an impressive five generations of champion titles, and she was a genetic outlier, possessing a diverse set of genes compared to the general standard poodle population.
Penelope and Romeo, another remarkable poodle, became the proud parents of our cherished Deacon (co-owned with Kasey at Meeker's Ridge), Feia (co-owned with my first mentor at Gossamer Poodles), and Quil (co-owned with Rebekah of Providing Pawsable). Their other puppies also brought joy to many loving families as companions. Notably, Quil exhibited even better genetic diversity than both her parents, a true achievement.
Penelope wasn't just a breeding phenom; she was also my first agility partner, a certified therapy dog, and a faithful companion during a challenging period marked by the loss of our oldest child in a tragic accident just before Thanksgiving in 2021.
Penelope had a special fondness for looking after puppies, regardless of their lineage. We observed that she would retire to our room when things got too rowdy in our home, bustling with multiple poodles. Then, a request arrived for an older dog suitable for service training. While we had never contemplated rehoming her, we couldn't deny her the opportunity for more one-on-one interaction and a meaningful "purpose."
Penelope transitioned beautifully into her new role and began learning her duties swiftly after relocating. We feel immensely fortunate to have connected with her new owner, knowing that she's now bringing joy and purpose to someone else's life while forever remaining a cherished companion in our hearts.