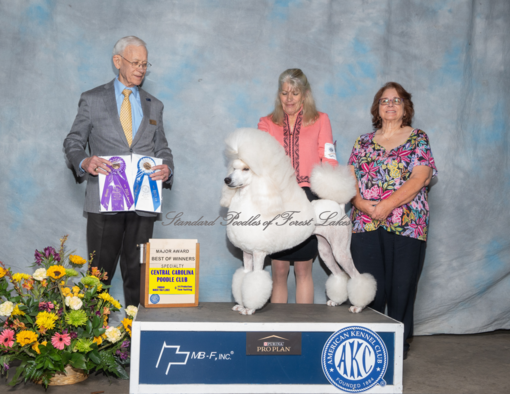 Standard Poodles of Forest Lakes
"Over the years I have felt the truest, purest love—the love of God, really, I imagine that's what God's love feels like—is the love that comes from your dog." – Oprah Winfrey
This slideshow provides just a brief overview of our program….
 V   Scroll down for more details and information, or click on the tabs above   V
Demonstrating Versatility
This breed is amazingly versatile. Our dogs participate in Conformation, Hunt Trials, Hunting, Barn Hunt, Dock Diving, Scent Work, Precision Coursing, FastCAT, Agility, Obedience, Rally Obedience, Companion Sports/Activities, Therapy and Service Work…and more!
Preservation Breeding
Our breeding program focuses on optimal health delivered by means of pedigree research, extensive health testing and continuous education – in addition to independent structure and temperament evaluations. Pups are raised in our home with Puppy Culture and Avidog protocols.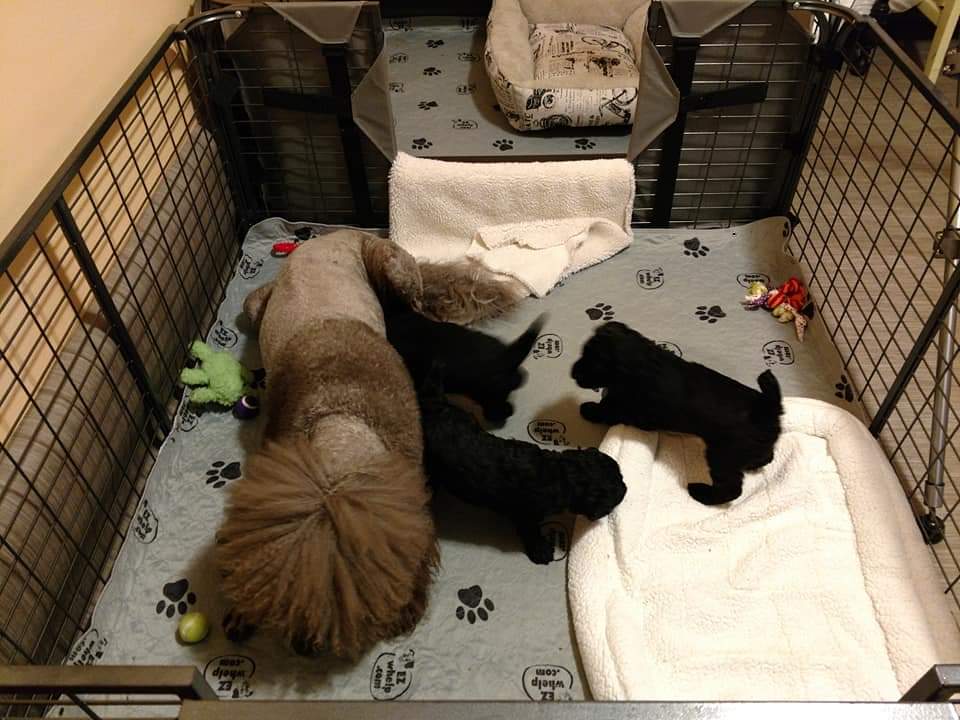 Preservation Breeding
We believe that breeding dogs is a privilege, not a right. As stewards of the standard poodle, we are guided by the principal desire to continuously improve and preserve the breed.
Contracted buyers have access to the litter nearly 24/7 through our PuppyCams.
See and interact with us as we care for, and work with, the puppies in your litter.
Supporting the Next Generation
Utilizing the experiences and education of my mentors and their combined decades of successful showing and breeding, in addition to my own learning:
To mentor juniors and new handlers in UKC

To mentor new preservation breeders
Supporting the Next Generation
Proud supporter of multiple juniors participating  in UKC and 4H conformation and sports
Spring 2024 we hope to place a Katie x Romeo puppy with a junior handler. This puppy's older half-sister will excitedly welcome him or her to the family.
Supporting 4H Juniors
4H Dog Club Volunteer/Leader focused on promoting meaningful relationships with juniors and their dogs through education, sports and FUN!
AKC Canine Good Citizen (CGC, CGCA, CGCU, VHMP, VHMA, Trick) Evaluator, AKC Temperament Test (ATT) Evaluator, and UKC Socialized Pet Obedience (SPOT) Evaluator (Free testing for 4H members)
When purchasing a puppy, buying from a reputable breeder who shows their dogs is essential. Dog shows provide a platform for breeders to demonstrate adherence to breed standards and be judged by independent experts. Breeders who participate in shows are usually more knowledgeable about their breed and its specific traits and characteristics, which they can use to make informed breeding decisions. This, in turn, helps to produce healthier and better-tempered puppies that are more likely to conform to breed standards.
Additionally, breeders who show their dogs are more likely to prioritize the welfare of their animals, ensuring that they receive adequate nutrition, exercise, and medical care. By purchasing a puppy from a breeder who shows their dogs, you can be confident that you are getting a healthy, well-cared-for animal representative of its breed and more likely to thrive in its new home.  – Unnamed AKC/UKC Judge
Standard Poodles of Forest Lakes – Recent Accomplishments & Top Honors:
125 AKC and

UKC

Titles/Awards Earned in just 41 months!
A National Best of Breed,

14

UKC Best in Show/Reserve Best in Show Awards, and 8 Best Puppy in Show/Reserve Best Puppy in Show in the last 26 months!
AKC Breeder of Merit since 2022
AKC Registered Kennel Name since January 2023
AKC Bred with H.E.A.R.T. since 2018
AKC Canine Good Citizen 

Evaluator 

(includes CGCA, CGCU, all Trick titles,
Virtual Home Manners 

and AKC S.T.A.R. Puppy) since February 2023
AKC Temperament Test Evaluator 

(ATT) 

since February 2023
UKC Socialized Pet Obedience Test Evaluator

(SPOT) 

since 2022
2023 UKC Premier Specialty Award of Merit
2022 UKC Premier Specialty Award of Merit
2021 UKC Premier Specialty National Best of Breed (NBOB)
and Reserve Best in Specialty Show (RBISS)
2021

UKC Top Ten in Breed
2020 UKC Top Ten in Breed

 
Conformation…therapy…scent detection…performance & companion sports…
working dogs……..these poodles do it ALL! 
From SPFL's humble beginning to today, we are thankful for our mentors and proud of what we have accomplished together. In three and a half years SPFL dogs have collected 14 UKC Championships, 11
UKC Grand Championships, 5 Gemstone titles, 14 Best in Show/Reserve Best in Show awards, and 8 Best/Reserve Best Puppy in Show awards in addition to 3 AKC Championships and many, many performance and companion titles. Prior to becoming SPFL, we had earned 14 conformation and companion titles on our pets. 
But even greater than our achievements, we are especially proud of the pups we raised and their owner/handlers!
From our 8 litters, they have earned over 90 titles and counting! (5/24/2023)
We are also proud of the loving, smart, and biddable puppies who have become treasured companions and family members!
As the owner of this website, I retain all rights to its content.
This content may not be redistributed by any individual, business entity or social media page without my express, written permission.
What we do
Our Specialties
Breeding
Utilizing experience, education and science to create healthier generations of standard poodles

Showing
 Proving our dogs meet the standards published by the national parent breed club in terms of structure and temperament and demonstrating the versatility of the breed
Rehoming
Rehabilitation and rehoming of poodles retired from the show ring and/or rescued from the community
Training
Puppies may remain with us for additional training (house/crate/leash/basic training) and we provide support for SPFL puppies for their lifetime
What Drives Us
Our Mission
The mission of Standard Poodles of Forest Lakes is to improve the standard poodle breed; providing the best possible outcome in terms of health and quality of life. This is accomplished through:
Proving our dogs in the conformation ring for correct structure and temperament
Demonstrating the versatility of the poodle in performance sports and other activities
Continuously participating in breed and breeder education
Completing extensive health testing 
Pairing genetically diverse dams and sires
Raising well-balanced and resilient puppies
Uniting families with puppies who are matched for success
Providing life-long support for SPFL puppies and their families
Sharing our knowledge and experience with the next generation of pet owners, handlers and/or breeders
​
BEST PRACTICES
AKC publishes a variety of helpful documents for new puppy and dog owners. Click HERE to navigate to a page full of information about preparing for your new puppy.
​Two other great resources are the Poodle Club of America Website and VIPoodle.
​We've assembled a resource for Grooming your pet poodle at home.
Poodle Clipping and Grooming: The International Reference by Shirlee Kalstone is one of the most comprehensive grooming books for the breed.
For new puppy owners, we recommend the book Train Your Puppy Positively by Victoria Stillwell.
​Puppy Culture (PC) provides structure for early puppy development (first 12 weeks). Be sure to visit the "Learn" page on the Puppy Culture website. Visit your puppy and observe Puppy Culture at work. We are happy to provide detailed records of our PC activities with your puppy.
​We are available for all of your questions for the life of your Forest Lakes puppy! Don't hesitate to reach out to us.
If you take one of our puppies home, he or she will come with a detailed record sheet, several days worth of food and treats, a collar and leash, a blanket, a toy, travel items, and a puppy handbook.